Laser and Mechanical Treatments
Soprano Ice Titanium Laser Hair Removal
The Cindy Knight Clinic is pleased to be able to offer you the latest technology regarding pain-free hair-free skin utilising our genuine Soprano Ice Titanium Super Hair Removal (SHR) system. Suitable for all skin types including tanned skin, is suitable for all pigmented hair types (apart from those with no pigment), virtually pain free and treatments can be taken all year round.
Book Now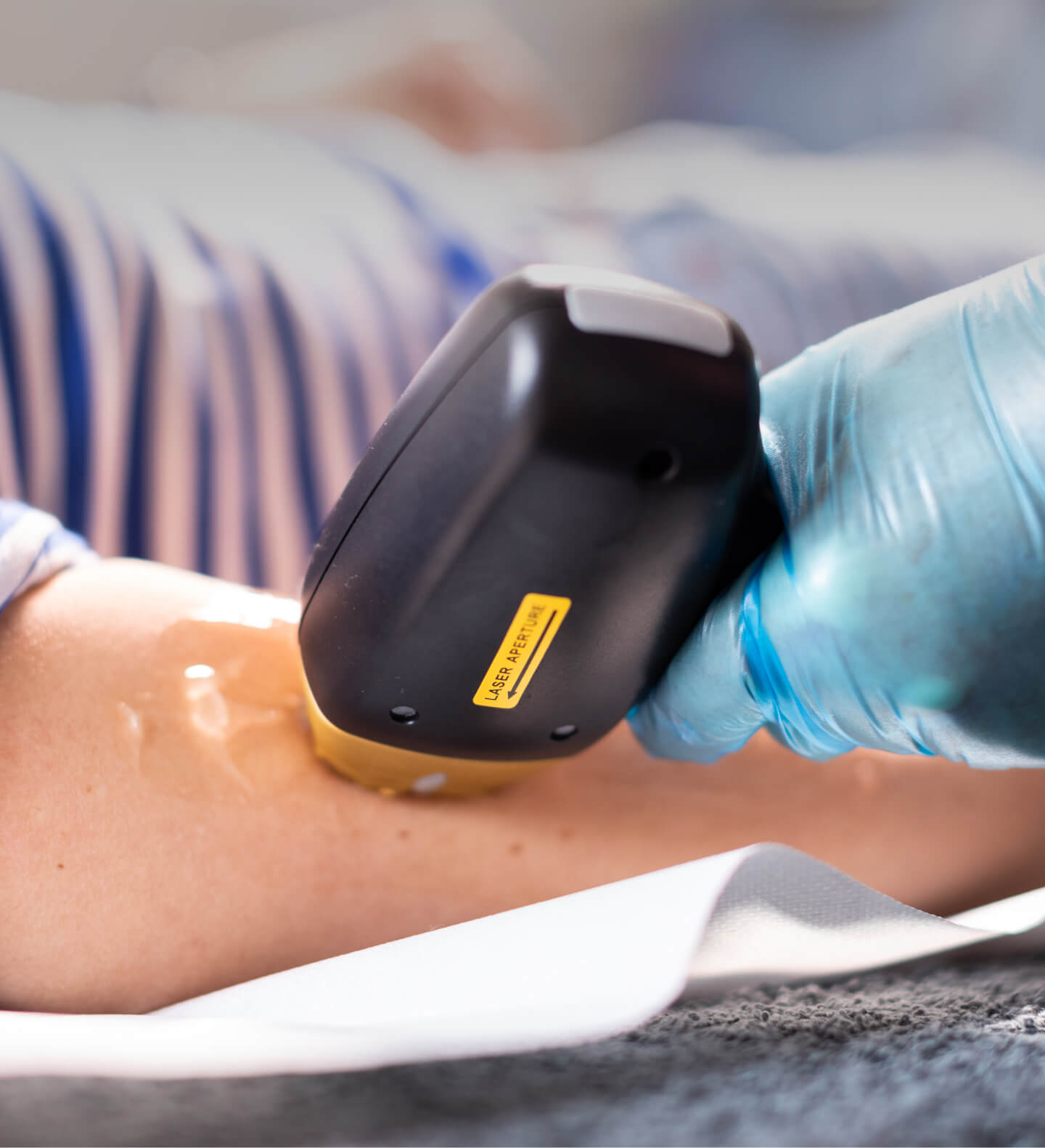 Soprano Ice Titanium Laser Hair Removal
About this treatment
The Soprano ICE™ Titanium laser machine is the latest development for permanent hair reduction from Alma Lasers, the world's leading developer of laser, ultrasound and RF technologies for aesthetic, dermatology and surgical procedures.
A proven method of effective and virtually pain free hair removal, Soprano ICE™ Titanium laser can safely treat all skin types, including tanned skin and all hair types including thin and red hair, all year round.
In addition, Soprano ICE™ Titanium with SHR Technology is clinically proven to have the industry's highest coverage rate - which to our clients means faster treatment times. For example, full leg treatment can be done in just 40 minutes. This is due to the In-Motion technique which collectively heats up and deactivates all the hair roots within a grid, as opposed to seeking individual chromophores at the hair root.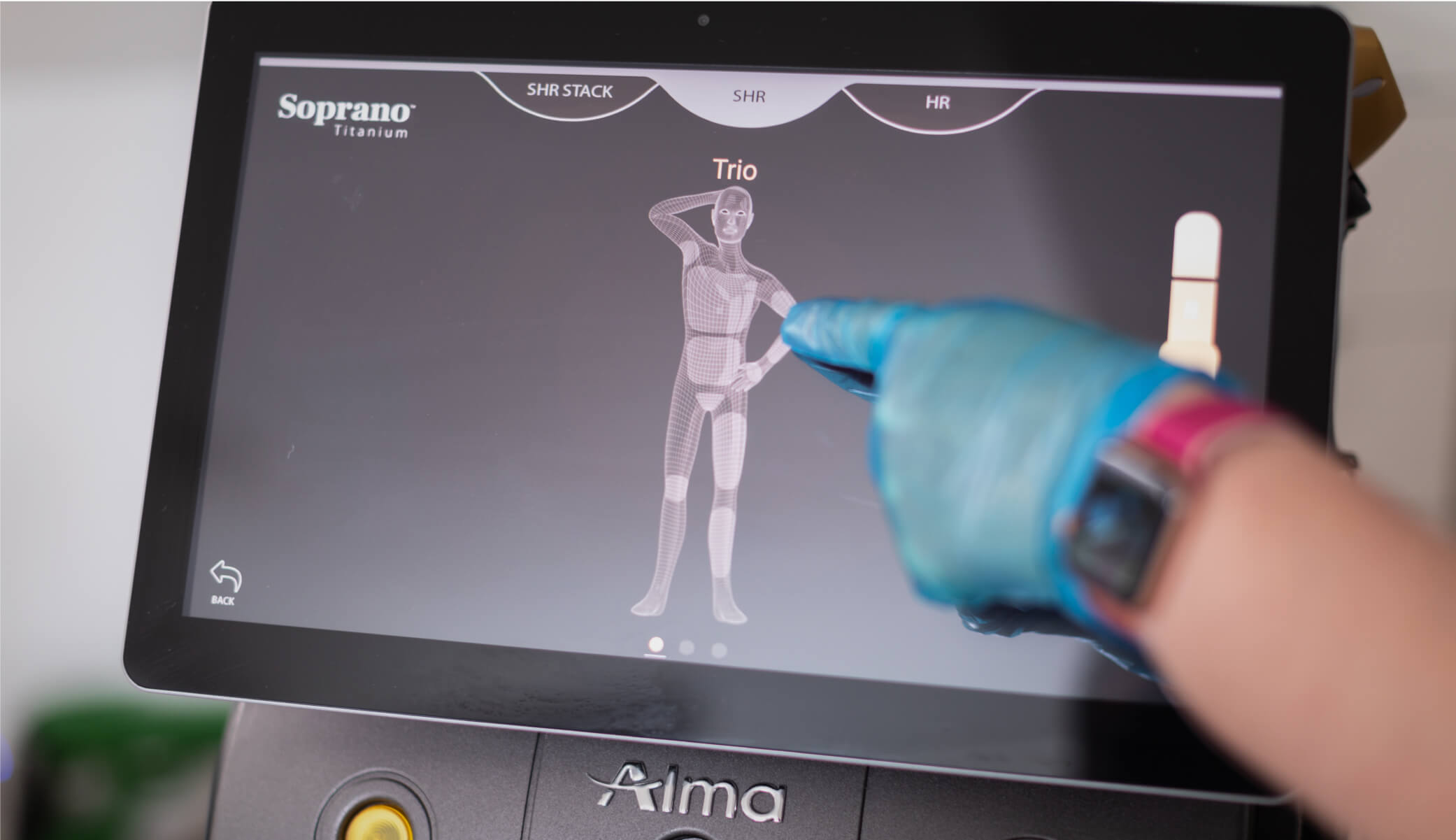 Soprano Ice Titanium Laser Hair Removal
FAQ
Where can I have the treatment?

Patients seek hair removal treatments for almost any body part, from facial or bikini line treatments to leg, arm, neck or back hair removal. We also treat ears, nostrils and the dreaded mono-brow.
What will happen?

You can expect results from a series of relatively short sessions. (The actual time depends mainly on the size of the area you are having treated.) Leah, Ashling and Diana are our aesthetic laser technicians who have extensive training and many years of Soprano hair removal experience between them, who will perform each treatment, and you are free to return to normal activities immediately after each session.
How does it work?

Soprano ICE Titanium works by using pulses of infrared diode laser energy to gradually heat the hair follicles in the subdermal layer of skin until they can no longer produce new hair. Using unique, IN-Motion™ technology and a patented DualChill™ treatment tip, the surface of your skin stays cool and comfortable. The sweeping motion also eliminates any skipped or missed spots common to other types of laser hair removal.
Is it Safe?

Hair removal is one of the aesthetic medical industry's most well-known and researched uses of lasers. Soprano® family of lasers has provided permanent hair reduction for many thousands of patients worldwide, safely and successfully since it was cleared by the FDA in 2005.
How many treatments will I need?

There are a number of factors that can affect the success of a series of hair removal treatments, but generally, after each treatment, you'll see a noticeable, permanent reduction in the number of hairs that regrow in the treatment area. Typically, it will require 8 - 10 treatments or more to permanently reduce the number of regrowing hairs by more than 80%, six months after the last treatment.
Will my hair ever grow back?

The short answer is no. Once the hair follicle is damaged, it cannot grow new hair. However, there are invariably a few hair follicles that manage to partially escape the laser during each treatment. Some of these follicles may be only stunned and will need to be retreated. Also some issues regarding hormones may cause regrowth.
How Much does a Soprano Ice Titanium Laser Hair Removal Treatment cost?

If you'd like to find out more about the costs of our treatments simply click here
Testimonials
What our clients say
Diana & Leah have changed my life literally!! I suffer from PCOS so for years had been having to shave my face daily making it sore & unsightly! And actually increasing the hair growth! But after a through consultation & amazing course of treatment I have never looked back!!! If any PCOS suffers have any doubts about whether laser is for them or if it works please contact the clinic ! You won't regret it ! I couldn't recommend the clinic enough & now go for all my aesthetic needs & wants. Thank you again The Cindy Knight Clinic
HD
I have now had my third treatment of soprano ice. All I can say is Wow! The hair is less course and growing much slower, it's Also lighter as I does come through, my skin is less aggravated around the area. Finally a treatment that work. Looking forward to my next treatment and the changes to follow.
Roxanne
Lovely to see Leah as always. Such a kind, friendly and professional lady! Soprano treatment is a dream! Highly recommended.
Sally