Wrinkle Relaxing (Botox and Azzalure)
One of the greatest benefits of Botox® is the veritable lift and freshness it gives to the face. It eliminates frown lines, forehead lines, lines around the mouth and crow's feet. It is a virtually painless procedure. Don't let the needles put you off – many of our patients have stated that the closest term they would use to describe the sensation is 'a tiny sting'.
Book Now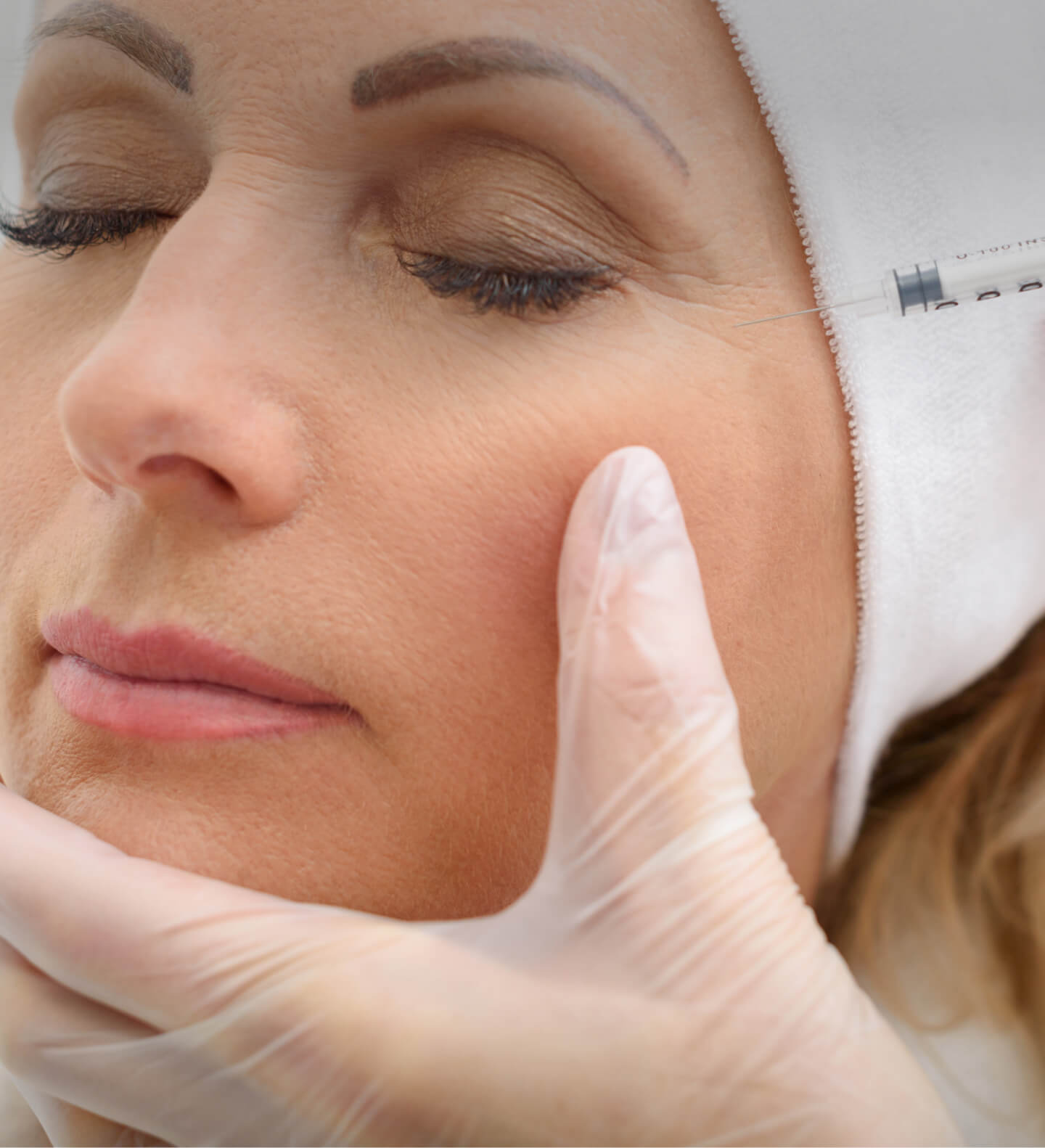 Wrinkle Relaxing (Botox and Azzalure)
About this treatment
Botox® is used to relax the muscles and reduce wrinkles, with this treatment typically lasting 3-4 months, although the effects start to reduce at 7 weeks.
Patients have commented that tension headaches and mild migraines are often eliminated after a session of Botox®*.
It can also be used to combat hyperhidrosis, or excessive sweating. A small amount of the product is injected into the armpit, and each treatment can last up to 6 – 8 months.
*Please consult your GP if you suffer from recurring headaches.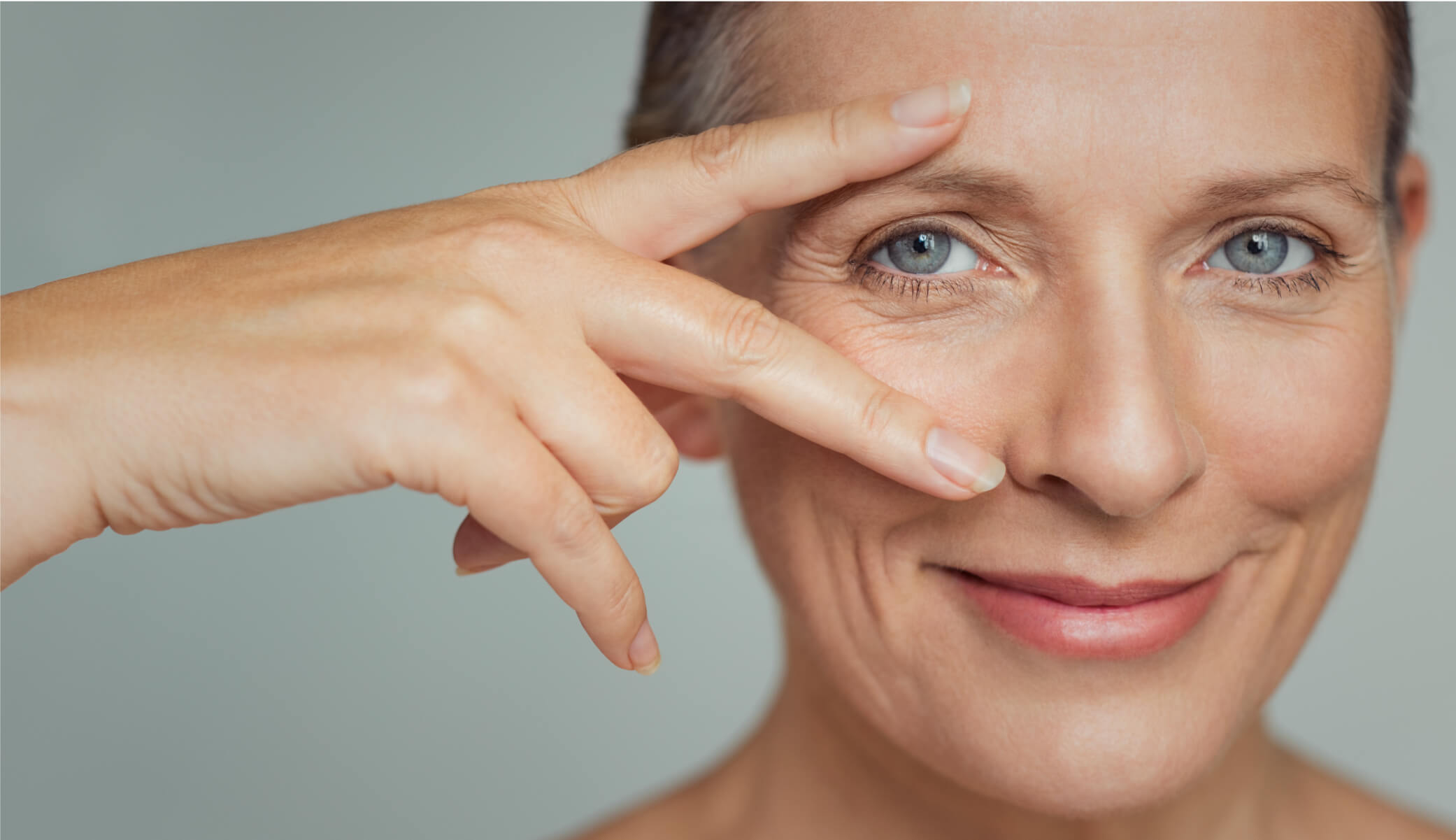 Wrinkle Relaxing (Botox and Azzalure)
FAQ
What exactly is Botox®?

Botox® consists of a protein produced by a bacterium. This is called Clostridium botulinum. It is a non-surgical treatment that is administered by a professionally trained clinician. Botox® temporarily reduces frown lines, forehead lines, lines around the mouth and crow's feet . During treatment, very small doses of Botox® are injected into facial muscles, which causes them to relax and smooths out the skin. The treatment is usually done in about 10 minutes, and no recovery time is needed, meaning you can literally have a session of Botox® in your lunchtime, if you wish, and return to work in the afternoon.
How does it work?

Lines on your face form over time as the result of repeated muscle activity over many years. By injecting Botox® into these muscles, transmission of nerve impulses to the injected muscles is blocked. This causes these muscles to be less active, therefore creating a smoother, more youthful look.
How quickly will I see the results, and how long will it last?

There will be a noticeable improvement to the lines on your face within several days. Some people report an almost instant improvement. The product will continue to work for a month, and results typically last for three - four months. It is worth bearing in mind however, that results do vary from person to person. Should you stop having Botox® treatments, the lines on your face will gradually return to their state before any treatment.
Does it hurt a lot?

You may be heartened to learn that Botox® is, for a large majority of users, uncomfortable rather than painful. Any discomfort felt is usually minimal and brief. The entire procedure will not take longer than 10-15 minutes.
Is there any reason I shouldn't use Botox®?

We recommend that you don't undergo any treatments whilst you are unwell or have any form of infection. If you know that you suffer from hypersensitivity to certain products, we recommend that you consult your GP prior to any treatment. Patients with neurological disorders such as MND, Myasthenia Gravis or Lambert-Eaton syndrome may be at increased risk of serious side effects.
What are the side effects?

The most common side effects include headaches, temporary eyelid droop, nausea and cold and flu-like symptoms. In rare instances, adverse reactions may include pain in the face and muscle weakness. These will usually occur within the first week post-treatment.
I'm worried that I'll look very unnatural after treatment. Is this the case?

Although the results are visible, contrary to popular belief, Botox® will not make you look permanently surprised, or as if you have had too much plastic surgery. Botox® will not radically alter your appearance, it will simply reduce muscle activity. You will still be able to frown or smile as you used to.
Do I have to be a certain age to have Botox®?

Botox® is generally thought to be safe to use in individuals aged between 18 and 65 but many over our patients are over 65. If you have any queries about this or any other information concerning Botox®, please contact Cindy Knight Clinic for an in depth consultation.
How Much does a Wrinkle Relaxing (Botox and Azzalure) Treatment cost?

If you'd like to find out more about the costs of our treatments simply click here
Testimonials
What our clients say
Always a pleasure to attend this lovely, friendly clinic. My Botox treatment by Joella was pain free as always. A lovely lady who happily answers all questions and offers excellent advice which is a bonus.
DG
As always Joella is so great at explaining everything about the treatment I'm having and making me feel at ease . she is great at doing my Botox . She never does to much and always makes me look very natural.
Michele
First time at the clinic but not to treatment. After a very friendly welcome on arrival and consultation, I then met Debbie who I found to be very welcoming professional and informative also very gentle and attentive.I hope this is helpful info for anbody who hasn't had botox to maybe put you at ease and help with your final decision to attend. I would very much recommend the clinic and will look forward to returning.
Anonymous